Steven Wayne Rotsch Photography
Workshop Information
---
Click on the links below for information on the workshops you are interested in attending.
Birds of Prey Photography Workshops
Workshop Information: Saturday April 29, 2017, and Saturday October 14, 2017 Birds of Prey Photography Workshop
2017 Birds of Prey Workshop Enrollment Form or enroll with your Paypal account.
Raptor Spotlight: Raptors that have been available at previous photo workshops.
Directions to the Three Rivers Avian Center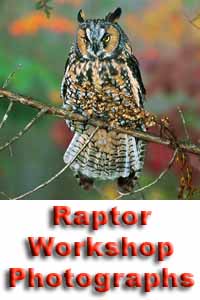 Click on this photograph
to view images from previous
Birds of Prey Workshops.
[Home] [Photo Gallery] [Scenic Gallery] [Travel Gallery] [Wildlife Gallery] [Vickie's Gallery] [Prices] [Contact Page] [Links]
April 11th – 13th - 2014
Photography Workshop
Twin Falls Resort State Park, Mullins, WV
Steve Shaluta & Steve Rotsch instructors

Capture the beauty of nature at Twin Falls Resort State Park, located southwest of Beckley, WV during the Spring Photography Workshop. If you enjoy digital or film cameras you will find this weekend event to be exactly what you are looking for. The workshop agenda will cover an array of topics from equipment and composition to photography, natural light, people, action photography, digital imaging and computer software use. Reservations required. Contact: Twin Falls Resort State Park 304-294-4000. www.twinfallsresort.com
September 2014
Fall Photography Workshop
Twin Falls Resort State Park, Mullins, WV
Steve Shaluta & Steve Rotsch instructors

Capture the beauty of nature at Twin Falls Resort State Park, located southwest of Beckley, WV during the Fall Photography Workshop. If you enjoy digital or film cameras you will find this weekend event to be exactly what you are looking for. The workshop agenda will cover an array of topics from equipment and composition to photography, natural light, people, action photography, digital imaging and computer software use. Reservations required.
Contact: Twin Falls Resort State Park 304-294-4000. www.twinfallsresort.com